ADA Captions: Are You Compliant?
By:

Jill Finch

Published:
The revised requirements for the ADA (Americans with Disabilities Act) went into effect in 2011. If you're a video content producer, you may need to be ADA compliant. In the age of the internet, who needs to be compliant and what does it even mean?
What is the ADA?
Passed in 1990, the Americans with Disabilities Act (ADA) "prohibits discrimination against individuals with disabilities in all areas of public life, including jobs, schools, transportation, and all public and private places that are open to the general public." – The National Network. That means if you are a university, a government entity, any public service, or even an online video streaming service, you may be required to adhere to ADA requirements and provide Closed Captions for any online video content.
ADA-Compliant Closed Captions – Best Practices
In order for captions to adhere to Title III of the ADA, they should satisfy a few guidelines.
Captions should be timed and on-screen with ample time for the reader to read them. The suggested time is 3-7 seconds per subtitle group (based on speech patterns)
Reposition captions on screen when they would otherwise block important pop-up text or text graphics.
Music, as well as important ambient noises, should be included such as [applause] and [laughter]
Verbal sound effects should be phonetically spelled out, if necessary.
Slang and/or accent and speech patterns should be as-spoken.
99% accuracy.
ADA and Auto-Generated Captions.
Do you need captions for your content to be ADA-compliant? You can just use the auto-generated captions from platforms such as YouTube, right? Wrong! Auto-generated captions are unable to fully implement all of the best practices above. The biggest issue is that they just aren't as accurate as the ADA requires them to be.
ADA best-practices require captions to be 99% accurate. This means you'll see an error every 2-3 sentences. YouTube's current auto-captioning produces captions that are on average 60-70% accurate, meaning every 2-3 words will be incorrect. If your content has any technical jargon, multiple speakers or any background music or noise, expect those captions to be quite humorous, but not very helpful for your audience.
Getting ADA-Compliant Captions
Currently, the best way to obtain ADA-compliant captions is either to complete them in-house, or seek out a professional transcription and/or captioning company that uses humans to perform the work. At Speechpad, we pride ourselves on our great customer service and our high-quality team of professionals.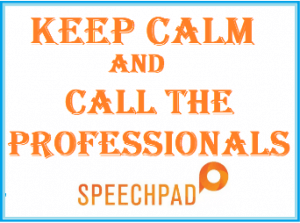 Select our Premium Captions service at checkout and let us know that you would like strict ADA compliance and we'll take care of the rest. You'll receive accurate captions that include the ambient noises, sound effects, music tags, timing precision as well as repositioning that the ADA requires. On top of that, you'll also get a complimentary text transcript with timestamps.
Want more? How about the option to receive Open or Embedded Captions? These captions are permanently burned or embedded into your video, removing any hassle of having to port around additional Closed Captions files.
Reach out to us at support@speechpad.com or use our live chat to speak to an agent 24/7.