Billy Miller "Young and the Restless" Star Dead at 43
Published:
Actor and producer Billy Miller, famous for "The Young and the Restless," passes away at 43. His manager confirms he struggled with manic depression. The mother of soap star Billy Miller, who passed away at 43, expressed gratitude for fans' support and revealed her son's battle with bipolar depression in a statement. Billy Miller's valiant fight against this condition touched many hearts.
Woman: Billy Miller, "General Hospital" and "The Young and the Restless" star, has died. He was 43 years old.
Billy: JT doesn't want to keep him from you. So, we're gonna work all these little things out.
Woman: ET's learned the actor died Friday, just days shy of his 44th birthday. A cause of death, however, has not yet been revealed, though his reps tell ET he was struggling with manic depression at the time of his death.
Kelly: It's a soap opera.
Billy: I mean, we're here. And this is real?
Kelly: No.
Billy: Oh.
Woman: Billy's daytime TV career began in 2007 when he joined the cast of "All My Children."
Raquel: Threaten me again, and this car goes nowhere.
Richie: Fine. Good, Just get me out of here in one piece and then your secrets are safe with me.
Woman: A year later, he nabbed his breakout role as Billy Abbott on "The Young and the Restless," winning three daytime Emmys as the character.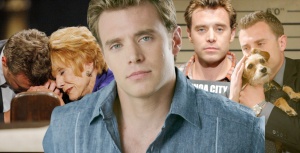 Billy: Wait, now-now? Right now it's time.
Woman: Right now.
Billy: Hey, yo, yo, it's time. It's time.
Man: How long did it take to make it this far?
Billy: It's all a pleasant blur.
Kelly: In real life or…? What's it been, like, four weeks?
Billy: Four weeks?
Kelly: I don't know.
Billy: Three minutes? 15 minutes.
Kelly: We don't know how we got here. We're just here.
Woman: In 2014, Billy took apart on another well-known soap, "General Hospital."
Jason: You always find a way to rise above. Yes, you are, little phoenix.
Woman: And one of his most recent roles includes portraying Harvey's brother Marcus on "Suits," which has recently had a resurgence since being added to Netflix's catalog.
Harvey: Okay, you tell me and you tell me now. What was that all about?
Marcus: I was gambling again.
Harvey: I don't believe this.
Marcus: It was just for a few weeks. It was almost a year ago and I've been in that program ever since.
Woman: Billy is survived by his mother Patricia, sister Megan, and her husband Ronnie, and their children.
Free transcripts of current events are available here!