Carmelo Anthony Retires
Published:
Molly: Quick Takes, let's get it. Carmelo Anthony has retired from the NBA, ending his 19-year career as the league's ninth-all-time leading scorer. S. A, how would you define Melo's career?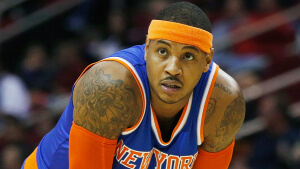 Stephen: One of the great scorers this game has ever seen. One of the better people, the more decent people you'll ever see. Really, really good dude. Tremendous scorer.
I mean, for the first 15 years of his career, Carmelo Anthony averaged 22 to 25 in his sleep. Three times he averaged over 28 points per game in a season. Just a spectacular offensive player. I know it's a quick take, but in my words, loan regret, he should have been a member of the big three.
Carmelo Anthony signed a five-year deal instead of a three-year deal that would've given him an opt-out in 2010. It was supposed to be him, LeBron, and D. Wade in South Beach instead of him, Lebron, and Bosh.
That's what it was supposed to be, but Melo signed a five-year deal three years earlier, couldn't get out, and that's why Melo, one of the great scorers and one of the great people this game has ever seen doesn't have a championship. He's a Hall of Famer. I just wish…
Kendrick: Yes, he is.
Stephen: I just wish that Carmelo Anthony had been in a position to capture a championship.
Kendrick: And I was just gonna piggyback off of that, Stephen. When you talk about putting the ball in the bucket, absolutely, he's one of the best we've ever seen. Put the damn ball in the basket. But I wanna applaud Carmelo Anthony on his professionalism.
Throughout his career, like we didn't never see Melo, you know, hearing about anything far as him outside of basketball. He always showed up to work. He always was ready to hoop. And on top of that, you know what else? He never shied away from criticism and he never took it personal.
Stephen: Never took it personal.
Kendrick: You never seen Carmelo Anthony going back and forth. He just went out there and did him. And I just wanna applaud that brother on a Hall of Fame career. I was a year up under him.
Man, I watched him all the way through high school, went to plenty of his games, and you know, you just always wanna appreciate your brother, you know, when it comes to an end because it's never easy. It's never easy walking away from the game.
Stephen: And he's definitely our brother. No doubt. Thanks for watching ESPN on YouTube. For live-streaming sports and premium content, subscribe to ESPN+.
Free transcripts of current events are available here!