Cowboys Lead With 2-0 Victory Over NY Jets
Published:
Woman: Cowboys doing some hosting and under 10 minutes to go in the first quarter there was no score. I feel like that was a short lived situation. Third and goal from the four for the Cowboys. Jake Ferguson dives into the end zone. Dak started the game 13 for 13. The most consecutive completions he's had to start a game in his career. It was 7 nothing. Garrett Wilson talking to his quarterback Zach Wilson, first player the next Jets drive. Look who pairs up. Wilson to Wilson and Garrett Wilson breaks free 68 yards later. That is a score his second in as many games. The Jets cut that lead 10-7 and that was about as close as it would get, because then came the Cowboys. Dalvin Cook gets the pitch. He runs into the Cowboys defense and loses then the ball. Micah Parsons strips that away, gets the recovery. Cowboys go on to win this one 30-10. And you had a big game as well from CeeDee Lamb. 11 catches, 143 yards. Part of that big win. Here is our Edwarder.
Interviewer: For the first time in 55 years, the Cowboys have won both of their first two games to start a season by at least 20 points. What does that say about the dominance you're capable of?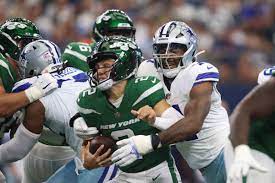 CeeDee: We're not slowing down, man. We got to be playing with a chip on our shoulder. We're playing for each other. But yeah, we're playing together. We're playing with each other. And of course, our motto right now is seize everything. So every opportunity we get to go out there and dominate, we will.
Interviewer: 11 catches for you. You were the dominant offensive figure in the game even though you didn't score. How are they able to…the coach is able to set you up with so many opportunities in the game plan?
CeeDee: They do a great job of moving me around inside outside and just giving me the ball and I can't thank Mike enough for that but definitely looking to you know be the be the spark if I need to be and today I was that.
Interviewer: It seemed like they kept Sauce Gardner away from you because you know where he's going to line up and you just kept moving around the formation as you said. Do you like those opportunities when you're up against a corner like him or rather go against a second or third corner as you did today?
CeeDee: I want the one. It don't matter. But I wouldn't say he was just going away from me. They did a great job of, once again, moving me around, putting me in different positions. And then when I get my opportunity against him, I mean, he knows a battle and yeah, we came out with a dove today. It was good.
Interviewer: Last question, complimentary football is a point of emphasis with Mike McCarthy. Your defense has turned the ball over 40 times since the start of last year. That's the best number in the NFL. How important do you view complimentary football as being?
CeeDee: It's the best thing out, man. You get, you got offense, you got defense, and then you got defense, you know what I'm saying? So once we all three, you did a great job, bro. You fanned me. But yeah, nah, when we play together, man, it's an unbelievable sight.
Interviewer: CeeDee, thanks for the time. Good luck next week in Arizona.
CeeDee: Appreciate you.
Jerry: I can't say enough about how Mike has prepared this team the last two weeks. how he came out of training camp. And so I give him a really extraordinary amount of credit here, Mike McCarthy. And of course, he's doing a great job leading that coaching staff. But as I said earlier, he's the busiest in North Texas because he's calling the plays and doing offense plus doing the coaching. But seriously, he'd be first take, he got a lot of help in there. I'm proud of this whole group. We've got our fans should, and I am really excited about what's ahead of us.
Zach: It's tough, man. I thought I was seeing it well for the first three quarters of that game, but we kept getting stopped. And there's always going to be things we can keep cleaning up. I thought I was seeing it well, at least for the first three quarters. I think if we go back and watch this film, we'll be able to keep pushing on some of that stuff.
Woman: We'll get more on Zach Wilson in a second, but he was 12 of 27 with one touchdown, but also three picks today, which is the exact opposite of what we're seeing from that Cowboys team. We'll get to the offense, but that defense, they've allowed 10 points for 2 games against the Giants and the Jets. That is the second fewest through two games in franchise history behind only a 1965 team that allowed 9 points. But Tim, game one, they scored 40 against the Giants. They scored 30 today against the Jets. I know it's early, but like when we're talking Super Bowl contenders, what reason do you have to believe that this Dallas team is actually legit?
Man: I believe they are legit. I think that, you know, we focus so much on the offense. I mean, the sound bite from Jerry Jones is, you know, talking about Mike McCarthy and everything he's doing and Dak starting the game hot. But the reality it's their defense, their defense is dominant. It is a championship caliber defense.
Free transcripts of current events are available here!