Deshaun Watson Out for the Season
Published:
Good morning to you. Dave Bacon in the Sports 4 CLE studios with a developing story concerning the Browns. MRI results are back for Deshaun Watson, and they are not good. He has a high ankle sprain but even more concerning, Watson has a shoulder injury that will require immediate surgery, a broken bone in his throwing shoulder.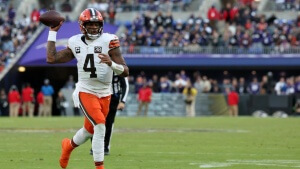 He will undergo season-ending surgery that will put him on the injured list. Watson is expected to make a full recovery for the start of the 2024 season, but Deshaun Watson, done for the year. We will have more news as it becomes available on Deshaun Watson. Andrew Berry scheduled to speak with the media today. Join us Sports 4 CLE at 4:00. Plenty on the Browns. And what do they do without Deshaun Watson? We'll see you at 4 on Sports 4 CLE.
Watson's MRI reveals a high ankle sprain and a severe shoulder injury requiring immediate surgery, ending his season. Expected to return for the 2024 season. Browns face challenges sans Watson, updates to follow.
Free transcripts of current events are available here!