Tim Scott Announces 2024 Presidential Bid
Published:
Male Speaker: Tim Scott, the Senate's only black Republican representing South Carolina, is kicking off his 2024 White House bid in his hometown of North Charleston today. This morning, there's new competition headed Donald Trump's way in the race for the GOP nomination.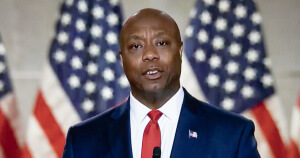 Tim: Kids are growing up immersed in a culture where everyone's a victim.
Male Speaker: The 57-year-old senator is expected to focus on his deep Christian faith and his hardscrabble upbringing in South Carolina.
Tim: I thank God almighty that my grandfather who was forced out of school as a third grader to start picking cotton to help his family lived long enough to watch his grandson pick out a seat in Congress.
Male Speaker: Tim Scott has been the GOP's leading voice on issues including policing and race relations while rejecting the idea that the country is racist and he's reached across the aisle with friends, including Democratic Senator Corey Booker.
Corey: I think that as I look at this Republican field, Tim Scott may be one of those people that is underestimated.
Male Speaker: With former President Donald Trump leading the GOP race, Tim Scott joins an increasingly crowded lane of anti-Trump candidates, including his fellow South Carolinian, former UN ambassador Nikki Haley, and former Vice President Mike Pence expected to announce shortly along with the possibility of former New Jersey governor Chris Christie, also entering the race. And according to two sources, Florida Governor Ron DeSantis set to officially announce his campaign this week as he sharpens his attacks on Trump blaming him for lackluster midterms.
Ron: I think the party has developed a culture of losing.
Male Speaker: It comes as DeSantis faces multiple battles back in his home state, including that ongoing feud with Disney. And now, the NAACP issuing a formal travel advisory saying Florida is hostile to black Americans. The group responding to what it calls DeSantis's aggressive attempts to erase black history and to restrict diversity, equity, and inclusion programs in Florida schools.
Earlier this year, DeSantis blocked an advanced placement course in African-American studies from being offered in Florida high schools. Okay, so we reached out to Governor DeSantis and his office on that NAACP Travel advisory. We have yet to hear back, Savannah.
Savannah: All right. Former President Trump, of course, is leading the field most polls show that. How much of a gap do the other candidates need to have a chance, and are they just gonna split the non-Trump vote? That's how it played out in 2016, and he was victorious.
Male Speaker: Yeah, the more people that announced, no doubt, helped former President Trump. If you look at the most recent polls, they tell the same story. This is really a two-person race, but one of the most recent polls shows just how far ahead former President Trump is. You can see he's ahead of Governor DeSantis by more than 40 points in this poll. So how does somebody like Senator Tim Scott, who's in the cynical digits, break away?
Tim Scott has raised a significant amount of money. They're gonna put up ads in Iowa and New Hampshire. The Iowa caucuses recently have favored the Christian-centric candidate on the GOP side when there's an open primary like this. So that favors Tim Scott, but then the race moves here to South Carolina.
The only problem is former governor Nikki Haley is also in the race as well, so it's gonna be a challenge. And, Savannah, a programming note. NBC News tonight has the first sit-down exclusive interview with Senator Tim Scott immediately following his announcement, I'll sit down with him.
Free transcripts of current events are available here!