Kobe Bryant Honored with Permanent Display at TCL Chinese Theater
Published:
Nischelle: Kobe Bryant's emotional family tribute three years after the crash that killed him and daughter Gigi. Welcome everyone to Entertainment Tonight. Kevin Frazier is in Hollywood where Kobe's loved ones just cemented his legacy. Hey there Kev.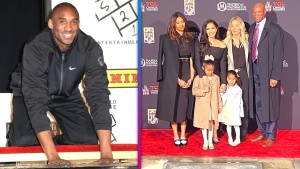 Kevin: You know Nischelle, I was here back in 2011 when Kobe Bryant became the first athlete ever to have his hand and footprints enshrined in front of the Chinese Theater. It rained that day too. And this morning, the Bryant family, including daughter Natalia, who was here 12 years ago, turned out as they made that Hollywood honor permanent.
Natalia: Dad, you are an icon, a legend, and most importantly, the best girl dad any young woman could ever dream of.
Kobe: I never in my wildest dreams thought that this would be a possibility. Man, this is dope.
Natalia: As you visit here for years to come, I encourage you to place your hands in his and take a moment to stand in his shoes.
Kevin: That's exactly what Natalia's little sisters did this morning. Six-year-old Bianca and three-year-old Capri felt their father's legacy. Kobe Bryant's imprints were in storage for more than a decade. The day he made them was pretty special. Vanessa was at his side. This is a really historic moment.
Vanessa: I'm so happy for him.
Kevin: And Kobe Bryant was loving being a girl dad.
Kobe: Gigi, I know you want to get your hands all dirty.
Kevin: What do you think? Would you put your hands in there? No way, huh?
Jeanie: Kobe was so proud to be a girl dad, and I can't tell you how many people have talked about that and what it meant to them.
Kevin: Today's ceremony was bittersweet. It comes two weeks after LA County agreed to pay Vanessa and her daughters nearly $30 million to settle a lawsuit over the sharing of graphic photos of the 2020 helicopter crash that killed Kobe and Gigi.
Rob: The inspiration of Gigi is ongoing. It's incredible that her spirit lives on.
Kevin: But at some point, will you do something like a film in Hollywood?
Kobe: Like a film? No, never.
Mark: And Kobe.
Kevin: Kobe Bryant went on to win an Oscar in 2018 for his short film, "Dear Basketball."
Natalia: I remember sitting beside him during late nights. He would always be awake writing, storyboarding, editing. And that story evolved into the story that we all love and cherish, "Dear Basketball."
Kevin: Speaking of the Oscars, Vanessa and Natalia made it a mother-daughter night on Sunday at the Vanity Fair Party.
Man: You look like a movie star. Have fun tonight.
Natalia: Thank you.
Kevin: That's Natalia last month at New York Fashion Week. The 20-year-old model is a sophomore in college studying film. How's Natalia doing? I know she's in college now and what's it like looking at her grown up?
Rob: Nani's a brilliant student at USC and just the deep dive she does in the film world, she'll share with us. She's really on a special path there.
Free transcripts of current events are available here!