LeBron James' Cryptic Message
Published:
Hey, Lebron James, obviously all-time scoring record, another season where you essentially defeat Father Time again. On a personal level, how would you evaluate the season that you had?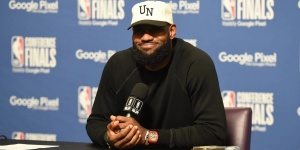 LeBron James: I don't know. I love to play the game. I love to compete. I love to be out there for my guys, my teammates, whoever I have that particular year. I think it was special in the fact that having a first-year coach and first-year coaching staff to be able to take them to the Western Conference Finals, I think that's dope for Coach Ham and his coaching staff going forward. That's pretty amazing.
For me, it's all about availability for me and keeping my mind sharp and things of that nature. Being present on the floor, being present, you know, in the locker room and bus rides and plane rides, things of that nature.
It's challenging, you know, for sure, it was a very challenging season, you know, for me, you know, for our ball club, and obviously, we know what went on early on and whatever the case may be, but it was pretty cool. Pretty cool ride, but I don't know, I think it was okay. I don't like to say it's a successful year because I don't play for anything besides winning championships at this point in my career.
And, you know, I don't get a kick out of making a conference appearance. I've done it. A lot. And it's not fun to me to not be able to be a part of, you know, getting into the finals, but we'll see what happens going forward. But I don't know. I got a lot to think about, to be honest. And just for me personally, going forward with the game of basketball, got a lot to think about.
Free transcripts of current events are available here!