Danello Cavalcante: Manhunt Continues
Published:
The manhunt for escaped prisoner Danello Cavalcante intensifies as authorities relentlessly pursue the elusive fugitive. Danello Cavalcante managed to steal a rifle during his escape and engaged in a tense standoff with a homeowner who attempted to thwart him.
Lt. Col. Bivens: Cavalcante is considered armed and extremely dangerous. He is now armed with a .22 caliber rifle with a scope and flashlight mounted on it.
Angenette: Pennsylvania State Police say escaped inmate Danello Cavalcante stole a rifle from a house overnight and the homeowner fired at him.
Lt. Col. Bivens: We have always considered him to be a risk. We just now absolutely know that he has a weapon.
Angenette: Thanks for joining us here on Law and Crime. I'm Angenette Levy. The manhunt for Danello Cavalcante is now in its 13th day in Southeast Pennsylvania. Cavalcante is the convicted murderer sentenced to life for stabbing his girlfriend to death 38 times in front of her young children. Last night, Pennsylvania State Police say a woman spotted Cavalcante and police moved in. Then a homeowner called 911.
Lt. Col. Bivens: and at 10:10 p.m. a call was received from a resident on Coventryville Road indicating a short Hispanic male, no shirt and wearing dark pants, had entered his garage while the homeowner was in it and that he grabbed a .22 rifle that was leaning in the corner of the garage. The homeowner drew a pistol and fired at Cavalcante as he fled with the rifle.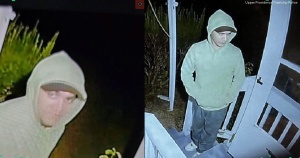 Angenette: A massive search unfolded in that area.
Lt. Col. Bivens: They observed footprints and some mud which were identical to the prison shoes worn by Cavalcante. A track was initiated and shortly thereafter both of his prison shoes were located. Information was received from another resident in that immediate area that a pair of work boots had been stolen from a porch at her residence.
Angenette: Police say a green sweatshirt and white t-shirt believed to belong to Cavalcante were found at the end of the driveway. The search for Cavalcante started August 31st. Prison security cameras recorded Cavalcante escaping, scaling a wall like Spider-Man at the Chester County Prison. Since then, Cavalcante has evaded police as home security and trail cameras have recorded him on the run. Police say he also stole a van and later ditched it after running out of gas. Pennsylvania State Police say upwards of 300 officers are searching the area, expanding the perimeter as they face tough questions about one man eluding authorities for so long.
Man: What has gone wrong here? Have you underestimated him? Is he just that much of a worthy adversary?
Lt. Col. Bivens: Sir, I don't know why you would think something has gone wrong. Our law enforcement people have done an amazing job tracking him and locating him. That proverbial needle in the haystack and they've located that needle repeatedly.
Angenette: Anyone with information about Cavalcante's location can call 717-562-2987. The reward for information that leads to his capture is now up to $25,000. For Law & Crime, I'm Anjanette Levy.
Free transcripts of current events are available here!