Matt Eberflus Chicago Bears Postgame Press Conference
Published:
Matt Eberflus: All right, so I just got out of the locker room with the players. I'm obviously very disappointed in the loss. I mean, really disappointed because of the way we played in the beginning. You know, I thought the guys did a really nice job of coming out. Offense scores a touchdown on the first possession, which was…that was our plan. Defense does a really good job of taking the ball away in the first half. Did a really nice job of that.
And the one thing that we could have done better in the first half was capitalizing on those takeaways, you know, and then getting points, which we did in the second half. You know, we got an interception and a fumble. We capitalized on points. We got 10 points off of turnovers in the second half.
But the main thing is, is that, you know, obviously the disappointment was the finish. You know, we didn't finish it as a football team. Didn't finish it as coaches, as players the right way.
And there's a lot of plays to be had out there and good calls that we could have made in those situations to get us that victory. And, again, I, you know, accentuated the positives with those guys because there was a lot of good football. Justin Fields came back, you know, from injury. Thought he played really well. Ran the ball nice. I thought when he did scramble, he avoided sacks, you know, most of the time. And I know we had two. And he did a really good job of looking downfield and hitting some side pockets, hitting some things down the field. And I think that's growth there with him.
But again, in the second half, we decided to, with the inches there, fourth and inches, we decided to go ahead and kick that and go up 12 points with a little over four minutes to go. And we just needed to execute better from that point. With that, I'll open up to questions.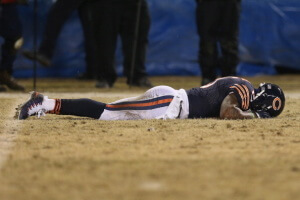 Matt Eberflus: Yeah, really the philosophy is you're playing your two-minute defense, which is your mix and your coverages, which we did. We're throwing in pressures there as well. The big thing that you got to do in that moment is tackle them when you get them inbounds, you know, so you're forcing them to use their timeouts, and you're doing a good job with that. And then they have less timeouts, less time as they go.
And again, they just went down the field too fast. I mean, it was, like, 6 plays a minute, you know, 16 or something like that, but it was just too fast. So, we just got to do a better job.
Matt Eberflus: Yeah, the touchdown pass, they were at a high angle. Seven got behind one of the DBs there, you know, so we just got to do a better job staying back. We always got to play high to low on that situation when you give us that route.
Matt Eberflus: Yeah, the first play was a handoff to go inside, right, because we've been really running that play. We know, obviously, the cutback on the corner is where we wanted it. I thought they blocked it really well on that one. You know, on the second one was a disconnect play, a potential disconnect, and they played way outside on that one, and so we handed it off.
You know, then the third play was a crosser over to DJ. You know, it was a crossing route, and you know, the free safety comes down, which he did, to take away the crosser, then we were going to throw it over the top. And I thought he had a nice read there, and I thought he just missed it by a step. And I thought it was a good ball, and I just got to run it into the catch.
Matt Eberflus: No, I mean, obviously we're talking to them about what we're going to do in terms of we need the first down. You know, and I think that's an important part of it. And again, like I said, the first play call was fine. And again, if they end up closing down, we're going to disconnect. And the pass play at the end was a good call. So, we just got to execute.
Matt Eberflus: You know, of course, you know, you can always guess the second part of it. You know, obviously we've been doing a really good job. I think he had over a hundred and some yards, right, Justin did. You know, not all of them on scrambles and a lot of them on 104 yards. You know, he did a good job running that play, you know, prior to that, you know, and he did a good job there. He read it correctly.
Matt Eberflus: Sure, you're always giving thought there, but going up by 12 at four minutes to go was our thought process there, and we like that.
Matt Eberflus: No, that right there, that last play, you're going to hang on to try to make a play. You know, and I don't think that is.
Free transcripts of current events are available here!