Matt Petgrave Held for Adam Johnson Death
Published:
Matt Petgrave has been arrested on suspicion of manslaughter. In this video, I'm going to take you through a very recent article discussing the latest developments in the tragic death of Adam Johnson.
A man has been arrested on suspicion of manslaughter over the death of ice hockey player Adam Johnson, whose neck was cut during a match. The Nottingham Panthers player was hit in the neck by the skate of a member of the Sheffield Steelers during the fixture on October 28th.
The 29-year-old was taken to hospital, where he was pronounced dead. A post-mortem examination confirmed he died as a result of a fatal neck injury, South Yorkshire police have said.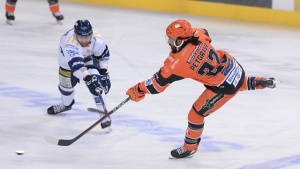 The force said detectives arrested the suspect on Tuesday, adding that he remained in custody. Detective Chief Superintendent Becs Horsfall from South Yorkshire Police said, "We've been carrying out extensive inquiries to piece together the events which led to the loss of Adam in these own unprecedented circumstances. We've been speaking to highly specialized experts in their field to assist in our inquiries and continue to work closely with the health and safety department at Sheffield City Council which is supporting our ongoing investigation. Adam's death has sent shock waves through many communities from our local residents here in Sheffield to ice hockey fans across the world."
Okay, so clearly a huge development concerning the tragic death of Adam Johnson. Now as many people know, I actually conducted an interview with a former Division 1 ice hockey defenseman which you can find up on my channel. I'll also put a link to that video down in the video description box below. But basically that interview lasted around about an hour, and we really go into a lot of depth regarding our own thoughts concerning this incident and whether there's any blame here, whether anyone's responsible.
Now everyone, I mean pretty much everyone, knows my own opinions on this. I feel this was a completely avoidable tragedy. I really do feel that Adam Johnson deserves some kind of justice here. And to read yesterday in the newspapers that Matt Petgrave took the ISA game and people were giving him a standing ovation, that absolutely shocked me. I was utterly gobsmacked to read not just in one newspaper but multiple newspapers that Matt Petgrave was getting a round of applause. A standing ovation.
I can't even go into my actual thoughts that are going on in my head at the moment. But as I say, I'm going to leave a link to that video down in the video description box below. Feel free to check that out. It's a really good in-depth video concerning my thoughts. And once further news comes out regarding this, clearly, I'll report it on this channel. As always, many thanks for joining me for this video. I look forward to seeing you all again for the next one. Take care, cheers.
Free transcripts of current events are available here!