Melissa McCarthy Talks Toxic Sets
Published:
Melissa McCarthy is opening up about advocating for herself after she described once working on a toxic set. While speaking to "The Guardian," The Little Mermaid actress discussed working for someone in Hollywood who created a set so unbearable it made her physically ill.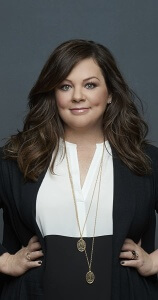 Melissa McCarthy reveals, "My eyes were swelling up. I was absorbing all of this nuttiness. There were people weeping, visibly so upset by this one person." She noted it was an experience that changed how she wanted to operate in Hollywood. "One day, I was like, "It stops today." I just kept saying to them, "It stops, it stops." And I know now I'll never keep quiet again.
Now running a production company of her own with husband, Ben Falcone, she says kindness is part of the deal. "We were so astounded and grateful at getting to build our own little worlds, we were like, "We have to build the one we've always talked about, where everybody gets to have an opinion and everyone is really nice."
In an interview with CNN back in March, The Little Mermaid actress Halle Bailey shared that Melissa McCarthy was the one who helped her learn how to stand up for herself on the job. "She was telling me, "Yeah, I had to learn. I wasn't always this way. And when you're young, you're timid." Bailey added that, "It was really cool to see her co-star come onto set and just be so comfortable with who she was in her skin, and to see her standing up for herself."
Melissa McCarthy also addressed the bigoted backlash to "The Little Mermaid," and what Bailey faced after the black actress was cast as Ariel. "I hate any kind of injustice and people attacking someone for just trying to be who they truly are. What does it matter to them? Do no harm, be kind. If everyone just followed those two rules, we'd be fine." For much more on the story head to thr.com. And for the latest entertainment news and updates keep watching…
Free transcripts of current events are available here!