Morgan Stanley Upgrades Tesla
Published:
Sara: Tesla's a big gainer today as Morgan Stanley comes off the sidelines and upgrades the name to overweight. Phil Le Beau with us. Phil, AI, key reason for the move.
Phil: It is. And, you know, Sara, basically it comes down to this. Do you believe that Tesla will be the first automaker to truly use AI and the next generation of chips in order to deliver truly autonomous vehicles? Because right now, they are not autonomous at Tesla, regardless of what Elon Musk says. So, as you take a look at shares of Tesla, keep in mind that this call for Morgan Stanley is a substantial one.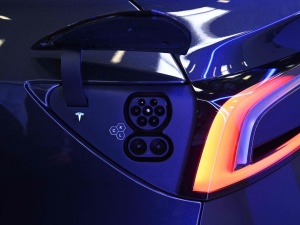 Adam Jonas raising them to overweight, changing the price target from $250 up to $400. And here's his summation in terms of why he believes Tesla potentially could be in for a long, long run higher. We believe that Dojo, that is the supercomputer that Tesla has built and is working on, can add up to $500 billion to Tesla's enterprise value expressed through a faster adoption rate in mobility, that's the robotaxi, and network services.
Software as a service is a big potential within the auto industry, not just for Tesla, but for all automakers. By the way, nobody's really tapped into it yet. Tesla has approximately 400,000 vehicles that have full self-driving technology. Doesn't mean they're autonomous because they are not, but they have that technology, the Dojo supercomputer, as they continue to refine it and to use the next generation of chips that Tesla is developing.
According to Adam Jonas, they could have substantially lower costs. And that's the reason why he says if you were looking for somebody who could really take advantage of AI and the next generation of chips, take a look at Tesla. By the way, we're showing you Tesla versus NVIDIA. Keep in mind that Tesla uses NVIDIA chips right now, but the idea being that as Tesla develops its own chips down the road, it will have lower costs and ultimately could get to the end game in the auto industry in terms of autonomous driving much faster than anybody else.
Sara: That's a two-year… Yeah, Tesla up 10%, NVIDIA up about 100%. Anybody can catch up to NVIDIA on that chart, even Tesla, which has been good. Thank you, Phil.
Free transcripts of current events are available here!