Prince Harry and Meghan Chaotic Car Chase
Published:
Female Speaker: Breaking news here on CBS News, New York. Prince Harry and Meghan Markle were involved in a chaotic car chase in New York Tuesday night.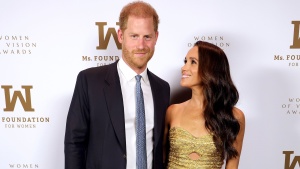 The couple's spokesperson says Harry and Meghan were being followed by photographers after leaving a charity event at the Ziegfeld Theater in midtown. They were traveling with Meghan's mother and were allegedly followed by half a dozen vehicles.
The couple's spokesperson says the chase resulted in "multiple near collisions involving other drivers on the road, pedestrians, and two NYPD officers." They described it as "near catastrophic."
John Miller, who's a former NYPD Deputy Commissioner of Intelligence and Counterterrorism, just spoke about the incident on CNN.
John: This originally came in as a story about, you know, Harry and Meghan had a car accident yesterday, which apparently is not the case. What the case is, speaking to people around the protective detail that was assigned to this was, they were overwhelmed by paparazzi.
These were people in cars, these were people on motorcycles, these were people on scooters that had surrounded the vehicle in midtown traffic. And now you've got the NYPD team that is the protective detail behind the principal car. And there's scooters and motorcycles running in between them, ahead of them, crossing in front of them. They're trying to create some distance, and this is becoming worse and worse.
So finally, in frustration, they made a command decision of, you know, trying to first slow down traffic, block a street and get some distance. That didn't work because then the scooters and the motorcycles flew down the sidewalks with pedestrians scattering.
So Harry and Meghan went to the 19th Precinct, that's 67th Street in Manhattan. They blocked off both ends of the street. They created basically a buffer, and then they spent some time A, trying to cool down from this and say, all right, what's our strategic plan to get to the next location without bringing this entire crowd?
Female Speaker: And of course, this brings up a sobering reminder. Harry's mother, Princess Diana, was killed during a car chase in 1997 while being pursued by paparazzi.
We'll have a full report coming up on CBS 2 News at noon. The NYPD says, officially, the incident is under investigation. No further official comment from NYPD right now.
Unofficially, the incident began outside the Ziegfeld Theater, where several vehicles did follow the vehicle containing the dignitaries after they left an event at that theater.
No specifics on exactly what went down, but the NYPD is reviewing video evidence to determine what happened. As of now, no physical injuries are reported. Again, the latest coming up on CBS 2 News at noon.
Free transcripts of current events are available here!