Social Security Check Scam Costs Queens Man $25K
Published:
A Queens man falls victim to a Social Security check scam, losing $25,000, highlighting the dangers of financial fraud targeting vulnerable individuals.
Sade: Check fraud is back in a big way, getting more sophisticated. The number of fraud cases has nearly doubled year to year, up to nearly $700,000 annually. It starts when a check is stolen out of the mail, then fraudulently cashed. And now they're even targeting government checks worth thousands. Nina Pineda has one man's desperate story to get his money back.
Nina: That's because every day since last year, Anthony Perlongo has been checking his mailbox and his inbox, waiting for money he's owed by the federal government.
Anthony: I'm worried about how I'm going to pay rent.
Nina: After suffering heart failure, the union laborer for Local 79 qualified for disability benefits, a lump sum settlement check more than $25 grand cut on November 2nd. But by the end of the month, no check arrived.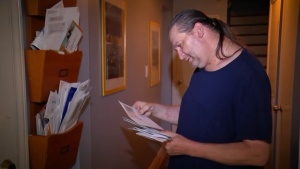 Anthony: That's when I called up Social Security, and they said, "Well, you cashed that check already."
Nina: His payment somehow stolen, forged and fraudulently cashed. So, someone has your $25,000?
Anthony: Yeah.
Nina: Here's the forgery. A scammer endorsed it by printing Anthony's name and then his own on the back. Is this how you sign your name?
Anthony: No.
Nina: So, Anthony opened a fraud claim, providing samples of his own signature three times. Back in March, Anthony got a letter from the U.S. Treasury saying forgery was determined and his funds were being transferred back to SSA. He's come to the office in Long Island City every month for half a year, he says, and they still can't find his $25,000.
Anthony: So, I feel stuck, and I feel like I can't get anywhere. Treasury department sent it back to Social Security, so Security is supposed to send it back to me.
Nina: So, you're stuck between these huge agencies.
Anthony: Right. Where do I go?
Nina: Where he went was to 7 On Your Side, and we asked both the Social Security Administration and the U.S. Treasury to get on the same page for Anthony. And the very next morning, a district manager called Anthony while we were doing his interview. I've been there six times already. The SSA promised us they'd have results within two weeks, and two weeks to the day. Is there a smile on your face for a reason?
Anthony:Yeah.
Nina: What happened?
Anthony: I got a call Friday or Friday morning, I woke up. I checked my account and it was finally in there
Nina: He got his lump sum and monthly benefit deposited. $27,586.
Anthony: Thank you. I really appreciate it. From the power from behind you, everybody, Nina on your side. She's the one to go to if you have any trouble.
Free transcripts of current events are available here!