Sunak Fires Home Secretary Suella Braverman
Published:
So, this is an official, being quoted by Bloomberg colleagues, that's saying that the UK's Sunak has fired the Home Secretary, Suella Braverman. The press association going on to say that the UK Conservatives will conduct a ministerial reshuffle. Well, that would make sense. If the Home Secretary has been fired, then you would need to see some sort of reshuffle.
This of course is in the context of the criticism that she levelled at pro-Palestinian protesters. That was controversial. It was criticized. We then saw some very violent scenes involving counter protesters in London over the weekend. There was also talk of her not clearing some of her comments about Palestinian protesters through number 10. And so all of that added up to a lot of questions being asked about whether she would survive the week.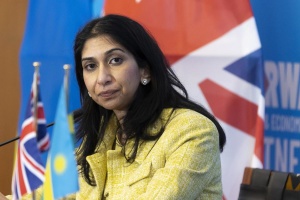 We were then moving towards a verdict from the Supreme Court, which meant that the timing got a little bit difficult for the Prime Minister. And so perhaps, in the context of all of that, not so much of a surprise that if this is… Well, this is what we're hearing from an official now, that Sunak has fired his Home Secretary, Suella Braverman.
So, will this open up a period of infighting within the Conservative Party? That's the question because she represented the right of the party. That's what she was doing in the cabinet really bringing that side of the party into the front bench. What happens now from that perspective?
UK's Home Secretary, Suella Braverman, was let go by Chancellor Sunak. This stirred talks about changes in the government. She made controversial remarks on pro-Palestinian protesters. Her comments caused trouble and made people wonder about the Conservative Party's views in the cabinet.
Free transcripts of current events are available here!