TikTok Banned by UK Government
Published:
TC Newman: TikTok boasts more than one billion monthly users across the globe. But if some legislators got their way, those numbers may be greatly reduced.
Rt. Hon. Dowden: We are also going to ban the use of TikTok on government devices. We will do so with immediate effect.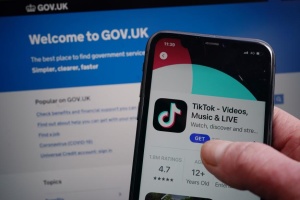 TC Newman: The British Parliament is the latest government to put restrictions on the app owned by Beijing-based company ByteDance. The UK measure blocks the app from any government-owned devices.
Rt. Hon. Dowden: We take the security of government devices very seriously, and we are constantly working to ensure that those devices remain as safe and secure as possible.
TC Newman: A similar sentiment was heard from Canadian Prime Minister Justin Trudeau when he announced measures for his own country's government-issued phones in February 2023.
Prime Minister Trudeau: I suspect that as government takes the significant step of telling all federal employees that they can no longer use TikTok on their work phones, many Canadians, from businesses to private individuals, will reflect on the security of their own data and perhaps make choices in consequence. But I'm always a fan of giving Canadians the information for them to make the right decisions for them.
TC Newman: In the U.S., about 30 states have already banned the use of TikTok on government devices. A proposed bipartisan senate bill would give the federal government the power to tighten controls over companies that collect data from American citizens and are based in foreign countries the U.S. deems hostile. This comes a week after a similar bill was proposed in the house. It's a motion that has the support of the White House.
Karine Jean-Pierre: We want to make sure that the digital products and services Americans use every day are safe and secure.
TC Newman: These bills face opposition from groups like the American Civil Liberties Union. They cite the Berman Amendment's 1988 measures that took away the government's ability to ban informational materials from unfriendly countries.
Patrick Toomey: People use TikTok to create content and share information that increases news awareness, that increases civic engagement.
TC Newman: TikTok's Vice President of Public Policy told CBS News banning their app "makes for good politics."
Michael Beckerman: Tiktok is an entertainment app. We collect less data than many of our peers.
TC Newman: ByteDance, TikTok's parent company, said in a statement that it does not share information with the Chinese government and would not even if asked. The CEO of TikTok is scheduled to testify before a house committee on March 23rd. For Inside Edition Digital, I'm TC Newman.
Free transcripts of current events are available here!