Vladimir Putin Arrest Warrant Issued by ICC
Published:
Kyra: The International Criminal Court has issued an arrest warrant for Russian President Vladimir Putin because of his alleged involvement in abductions of children from Ukraine. It will now be up to the international community to actually carry out the warrant as the court has no police force of its own to actually enforce it.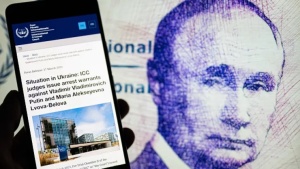 ABC News, foreign correspondent Marcus Moore, joining us now with more on this. So, Marcus, what more do we know about the warrant and also these abduction allegations?
Marcus: Well, hey Kyra, good to be with you. These warrants coming out just today. And according to the International Criminal Court, they are related to allegations that President Vladimir Putin and another top official, the Commissioner of Children's Rights for The Office of The President of the Russian Federation, essentially, abducted children from Ukraine.
The ICC releasing a statement saying that, "Mr. Vladimir Putin was either individually, criminally responsible for either committing these acts directly or for his failure to exercise control properly over the civilian or military subordinates who committed the acts themselves, or he allowed their commission."
Again, that's according to the ICC. It's a part of the allegations that have been made. And this, of course, is something that we have been following for months now. Our Britt Clennett, as you know, Kyra, has done extensive reporting on the alleged abductions of numerous children.
In fact, she featured a family, a father who was detained for 30 days, and then it took him an entire 90 days to get his children after he was released. He learned that his children had been moved to Russia, and it set off an effort on his part to try to be reunited with them.
According to officials in Ukraine, 11,000 children have been deported illegally, and only 100 of them, according to Ukrainian officials, have made it back to Ukraine. And so, this is a major issue, and certainly one among many that critics have pointed towards in their allegations of war crimes, of not only abductions but also genocide as well. So, Kyra, it goes without saying that this is very significant, and we will watch to see what happens in the days ahead.
Kyra: So, is Vladimir Putin reacting to all of this, any of this?
Marcus: We haven't heard directly from Vladimir Putin, but we have heard from his people, including Dmitry Peskov, who's his Press Secretary. He has said today, that "We consider the very posing of the question, outrageous and unacceptable."
Also, another spokesperson, Maria Zakharova, says that "The arrest warrants have absolutely no meaning on the part of the Russian Federation." And also including from a legal point of view, that the arrest warrants are legally null and void. So, that is the immediate reaction that we have heard from the Russians.
But on the flip side, there are people who are celebrating this as a step and certainly those who have alleged that war crimes have taken place, they are encouraged by this late word from the ICC, which by the way, the President of the ICC has visited Ukraine four times in their efforts to establish whether war crimes have been committed. And they are now saying that there is evidence to support the allegations.
Free transcripts of current events are available here!