These are the specialized Closed Captions (CC) appearing on TV shows, feature films, and other top quality content. SDH stands for Subtitles for the Deaf and Hard-of-hearing, and they are designed to convey everything that you'd hear in a video – dialogue, music, sound effects (car honking, phone ringing, etc.).
Our SDH Captionists utilize specialized formatting, follow hundreds of industry standard rules, and manually set the timing for every caption to provide world-class SDH Closed Captions and Subtitles. We provide top of the line tools in your exclusive SDH Captions Editing console, including caption positioning, allowing you to select the on-screen location where the subtitles will appear.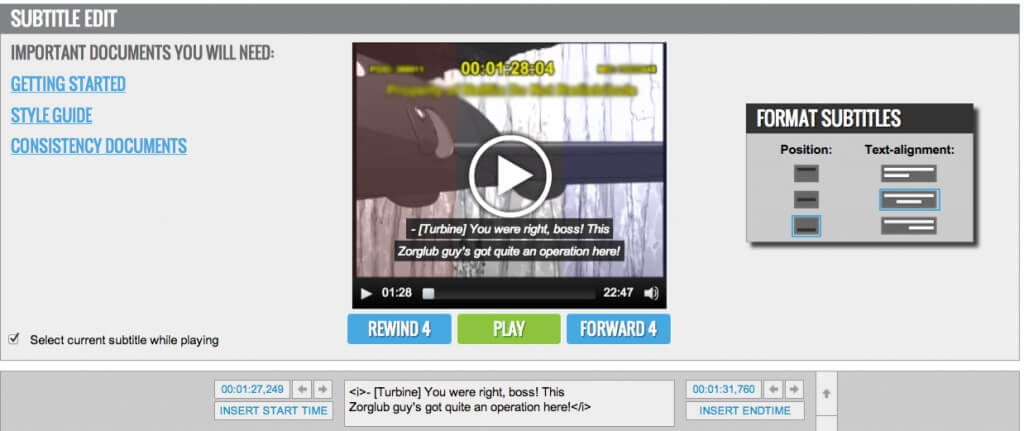 Typical turn around for SDH captions is one week. If you have a large volume of files you'd like to get processed quickly or have a steady flow of content, please contact us directly at sales@speechpad.com.
Television Shows We Have Closed Captioned Include
In addition to numerous stand-alone feature and documentary films, we have Closed Captioned (CC) entire seasons of: Babar, Bird Squad, Cedric, Chicken Town, Chumballs, Coach, Contraptus, Eloise, Fleabag Monkeyface, Godzilla, Gravity, Inami, Jacques Cousteau: Ocean Tales, Jumanji, Magic Roundabout, Pirate Family, Requiem from the Darkness, Taratabong, The Tick, Trotro, Trouble with Sophie, Underbelly (Two Cities), Underbelly (Golden Mile), Underbelly (War on the Streets), Yakari, and more.
We provide a variety of broadcast formats including SMPTE-TT, CEA-608, CEA- 708, .TTML, .DFXP, .XML, .SRT and can create custom formats as well.
At no charge we also provide a transcript of your viewable, available as plain text, a Word Doc, or HTML file.