Adding Captions to Videos – What You Need to Know
By:

April Baity

Published:
Adding captions to online videos is becoming more and more common, especially as government regulations in multiple countries are requiring Closed Captions to meet accessibility requirements.
At Speechpad, we know there can be a lot of technical jargon associated with captioning. If this is your first time navigating captions, or even if you're a seasoned content creator, our quick guide will help you make heads and tails of this technical topic.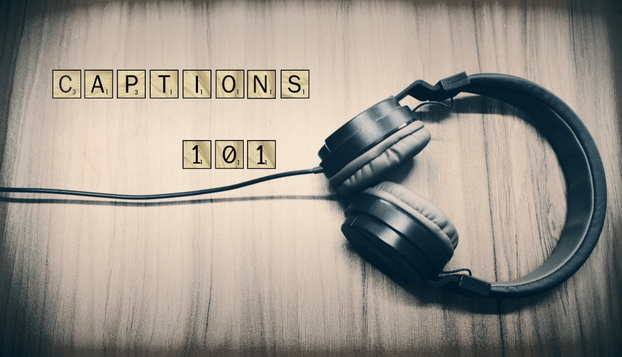 Closed Captions
Closed Captions are the most common form of on-screen text that you see on TV and online. While the name doesn't exactly give it away, Closed Captions are easy to identify in that they can be toggled on and off.
That little CC button? Yep, click that button to toggle the text. It's super easy!

Technically, though, what ARE Closed Captions? Closed Captions are actually file formats that are uploaded together with a video. This makes them easy to edit since they aren't actually a "part" of your video. Regardless of their specific file type, you can open almost all Closed Captions files in Notepad to read and/or edit the text. There are multiple file formats, so to keep it simple, we'll only touch on the most common file type.
Closed Captions File Endings: What to use?
SRT, SCC , WebVTT, what? If there are multiple different file formats for Closed Captioning, which one do you need? SRTs are the most common file format for social media platforms, being accepted by both Facebook and YouTube. SRTs are quite simple, technically. They contain only your text and the timing information that syncs the text with your video.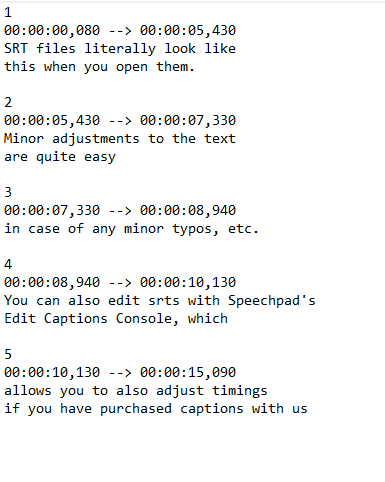 Because they are so simple, SRTs do not allow you to alter information such as positioning, font size, type and color, or adjust the (typically) black background bar. Much of that information is dependent on default or customization settings of the media player, not the captions file.
At Speechpad, we deliver all of the following file formats listed in the table below with any Captioning Service order. So, if your specific platform needs something other than SRT, we should have you covered!
Open Captions
Open Captions, contrary to Closed, cannot be turned off. In fact, these captions are permanently burned into a video. While this takes away the technical difficulties of knowing how, where, and what to upload together with a video, it makes editing the text and/or timing a bit more difficult.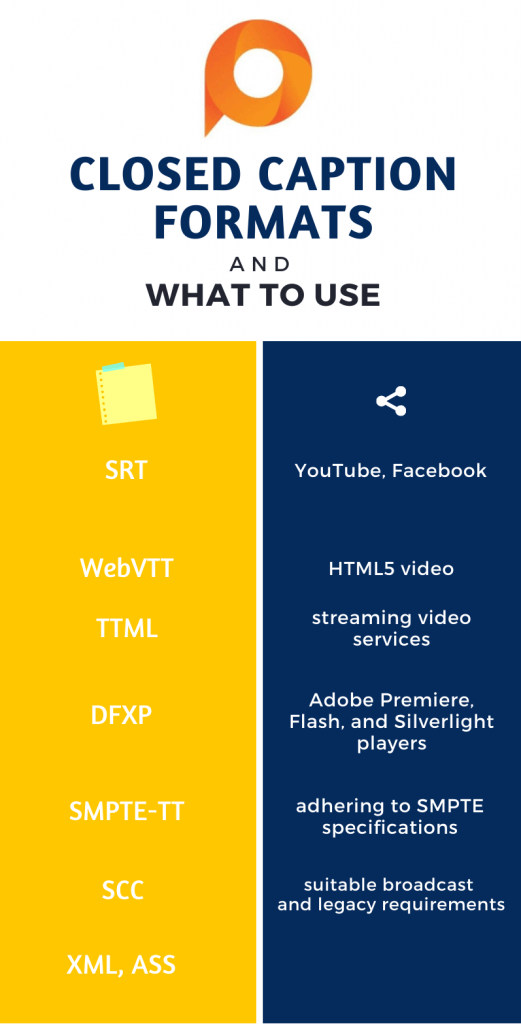 Open Captions are Customizable
Or at least at Speechpad they are. Since we use our own servers and our team performs alterations, we can work with you if you'd like to customize your Open Captions. Things we can alter include font style, font size measured by height in pixels, the size of that black bar behind the text, positioning and more.
"Subtitles" and why it's not a useful term.
We see these phrases pop up all the time.
"I would like subtitles for my video."
"I thought I could download the video with subtitles on them."
Are translations subtitles? Yes.
Are English captions for the hearing impaired subtitles? Yes.
The term subtitles literally just means captions. The problem with this term is that it doesn't tell us how they need to be delivered or displayed. So feel free to order subtitles. Just make sure to tell us if you want to toggle them on and off.
Need help getting started? Not sure which form of captioning is best for you? Contact us via email at support@speechpad.com or via 24/7 live chat support at speechpad.com.